Welcome to Freddy's playfull diner!
At Freddy's playfull diner we have cute robots,tasty pizza, and more! Your job here is to watch over the place for 6 nights.But beware of the robots. They..do weird stuff at night.
!Warning!
This game contain things that might disturb some users. such as:
-Loud noises
-Creepy atmosphere
-Creepy characters.
I hope you enjoy my game!
Credit goes to :
-Scott Cawthon : Creator of Fnaf ,character designs.
-Funko : Figures.
-Creators of Fnaf engine : Engine.
@HydratedGames
: Idea of a Fnaf fan-game with action figures.
Special thanks to :
@RadJohnson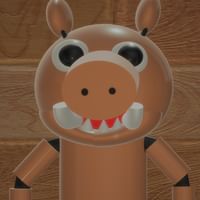 ---
Intense Cartoon Violence
Mild Language