Last time I'll use False/Fucked Freddy in the banner, I promise.
---
Hi guys,
It's been a bit of a slow week for the team to be honest. I'll talk about what has been done, but it's not much! Firstly, fanart.
---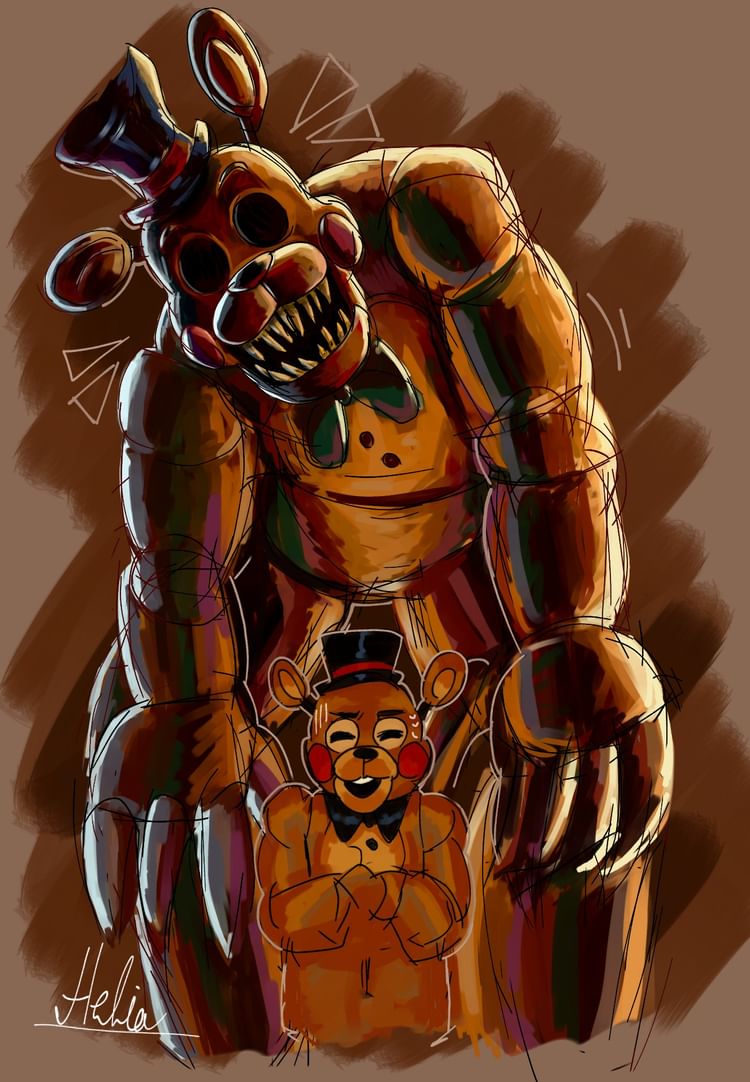 by Helia Fazarts - (Source)
by OurpleGuy - (Source)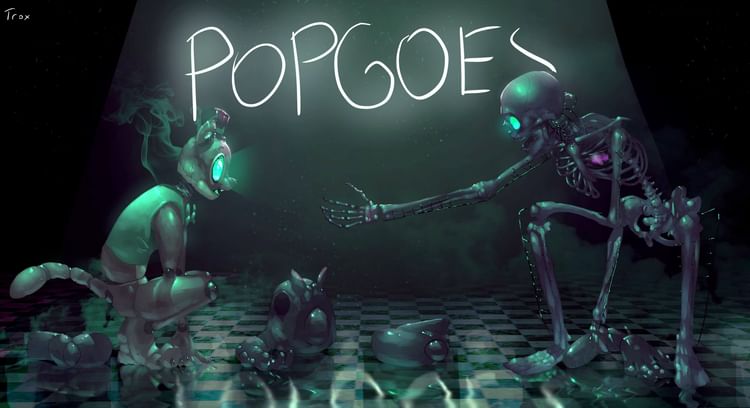 by Trox - (Source)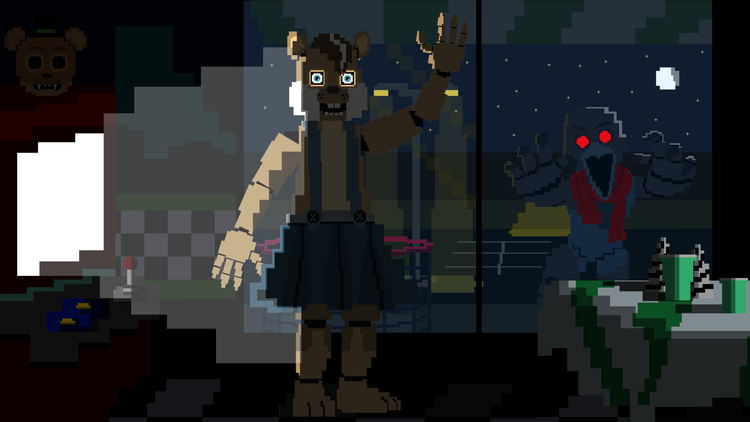 by StudioBallora - (Source)
---
POPGOES Evergreen:
So yeah, it's been a bit of a dry week in terms of development but I'll share what has happened.
Garrett and I are working on the post-night gameplay, mostly environments. I've realised that, at the current pace, it's going to take waaay too long to rely only on Garrett for the environmental modelling this time. We need to speed things up, so I've been looking into finding another contributor for the project who can work on creating lots of decorative props, big and small. I'm not settled on anything or anyone yet, but it's something I'm looking into.
Alexis is back to work, and he recently finished an accurate model of Balloon Boy. Because, yes, Balloon Boy and "False Balloon Boy" will be in Evergreen: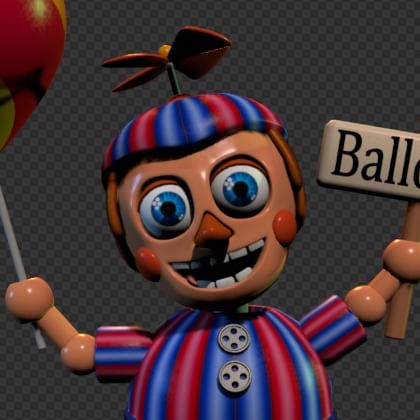 We also have Odium involved with these characters. He animated the reveal teaser of "False Freddy" (let's just stick with this name for now) by the way. Odium is working on MIDDLE stages for these characters. So while Alexis is making accurate and False versions of each Toy, Odium is using those models to make middle stage versions so that they can "transform" more seamlessly. A bit like a Pokémon.
I can confirm that the full lineup of these characters will be Toy Freddy, Toy Bonnie, Toy Chica, Mangle, and Balloon Boy. And in terms of completion, we have:
Toy Freddy: Accurate ✔ - Middle ✔ - False ✔
Toy Bonnie: Accurate ✔ - Middle ✔ - False ✔
Toy Chica: Accurate ✔ - Middle ✔ - False ✔
Mangle: Accurate ✖ - Middle ✖ - False ✖
Balloon Boy: Accurate ✔ - Middle ✖ - False ✖
Mangle (and of course False Mangle) will be a pretty huge undertaking. I imagine we'll be done with this series of characters in mid-December. And then Alexis will probably work on a new endoskeleton model (because our current one doesn't seem to actually sync up with our character models very well...) and then maybe Simon as well. For those who don't know, Simon is fully designed (he has been for ages) but his model was never completed. If you've seen what Alexis is capable of, a new Simon is RIGHT up his alley. Would love to see how he'd go about it.
A few days ago I also showed off another image of False Freddy, somewhat revealing that he does have eyes: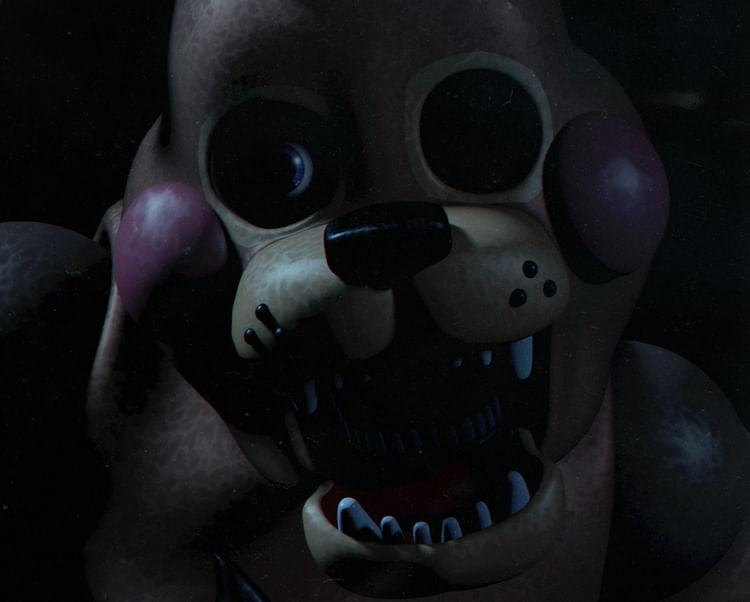 I say "somewhat" because one of his eyes was actually visible in a previous image. But this render had already been made, and it gave a slightly clearer look, so I thought it'd be nice to share. I will still be reserved in sharing this False animatronic (and the others), so consider this your final treat, at least until Dawko's stream next month!
Last thing for Evergreen: Emil and I have started running some tests in Clickteam for the post-night gameplay, which is entirely different from the main night. It's really quite complicated and will require a lot of magic from Emil's end. I have nothing to show or say, but I will let you know that I am really impressed and excited about it. So is the rest of the team.
---
Other:
Nothing major to share here, aside from the fact that the Popgoes Youtooz figures are now shipping. If you ordered one when it was available online, then you won't need to wait much longer. I've also received the Candy and Ignited Freddy figures, and they are fantastic. Really hoping to work with Youtooz on plenty more stuff in the future.
Also, if you are interested in my Team Fortress Future project, I have returned to it recently and work has begun on designing one of the new classes. We're using a mix of AI, traditional concept art, and image editing. It's tough, but lots of fun. I know the bar is pretty damn high for art and design in Team Fortress 2's community, so I'm really hoping I don't disappoint. I'm expecting to release TFF either as a series of videos or images sometime in 2023. It's NOT a mod or a playable experience!
Okay, that's it for this week. Again nothing too exciting but I won't go a week without sharing at least SOME cool things. Keep the fanart coming, it's always fun to check it out!
- Kane