Gaming — the quintessential community.
Post gaming related screenshots, clips, memes and other stuff
Rules
Respect the Site Guidelines

THIS IS NOT A GAME DEVELOPMENT COMMUNITY. For game development, post here: c/gamedev
If you post your game dev progress, updates or announcements here, you may be blocked.

Posts must be directly related to gaming

No NSFW or piracy

English only

Mark posts about spoilers appropriately and put spoilers in the post article

No self promotion: don't post your Game Jolt, YouTube/Twitch channel, game page, twitter, etc. You may create posts with videos from your YouTube channel, but not to promote your channel.

Post into the correct channels:

ingame for screenshots/short gameplay clips

creative for images, videos or irl creations about video games or gaming. No gamedev please!

memes for image macros or short gifs/videos in a meme format

chatting to talk about games, make polls, or say "Hi"

announcements for sharing things like new game trailers or merch from your favorite studios. This channel is not for advertising your own games and content. Check to see if the announcement you're sharing has already been shared. Don't repost something that's already here.
---
The cake is a lie
@lorac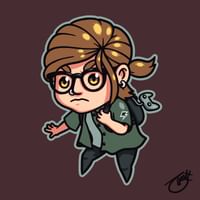 owner